MeChat Universe: Sponsorship With Advertising & Lasting Community Impact
Sponsor SY2025 - Advertising Estimates, Reach and Engagement Insights
---
Article By Antonio James, MIQ
September 13, 2023, 7:13 pm
The Opportunity
Memphis, TN – MeChat Universe, a leader in advanced financial literacy education, proudly announces SY2025, an exclusive advertising opportunity for brands looking to make an impact in low income communities.
Through strategic partnerships with local cities, advertisers, and esteemed Venture Capitalists, including Family Offices, MeChat Universe offers advertisers a platform to not only showcase their products and services but also leave a lasting impact on local communities.
This is a unique sponsorship opportunity with the potential to drive substantial ROI, residual profits, and the power to drive social change, like no other charity or marketing strategy can.
A Win-Win Advertising Collaboration
MeChat Universe's mission to revolutionize financial literacy education will align mayors, sponsors, advertisers, and users seamlessly with the aspirations and objectives of the local community.
This exclusive collaboration offers advertisers a chance to not only promote their brand but also uplift communities through financial education.
Advertising with a Purpose
Investing in advertising with MeChat Universe offers more than just exposure; it provides a meaningful way to connect with local communities through innovative financial education solutions and events that advertisers can be part.
Addressing the Need for Financial Empowerment
As the demand for comprehensive financial education continues to grow, proceeds from advertisers go towards initiatives that empowers individuals from all walks of life to achieve financial independence and make a powerful difference, contributing to the growth and prosperity of their local communities.
"Our vision is to Pioneer Social Change through Advertising by transforming the financial landscape of local communities," stated by Director Antonio James, Executive Director of MeChat Universe. "By collaborating and partnering with advertisers, we are forging a path towards innovative financial literacy solutions that empower local communities while delivering substantial ROI for advertisers, and residual profits for users.
Together, we are not just advertising; we are making a significant impact on communities and fostering growth."
A Promising Future for Advertisers and Communities
The partnership between MeChat Universe and its esteemed investment partners, including advertisers, promises a future where advertising serves a dual purpose—promoting their brands and creating a lasting impact on local communities.
As more collaborations unfold, MeChat Universe is poised to introduce groundbreaking advancements in financial literacy, benefitting advertisers, startups, entrepreneurs, and local communities at large.
Internet, Business, TV - Advertising and Media Packages Rate Card
MeChat Universe stands out by offering advertisers access to a passionate business plan-loving audience and exclusive sponsored business plan competitions, showcasing the products their plans created.
Audience Demographics:
Target Audience: Business professionals, entrepreneurs, and investors
Geographic Reach: Global (English speaking countries)
Quality Content
MeChat Universe attracts a dedicated audience by producing high-quality educational content featuring success stories, practical advice, and in-depth interviews with successful entrepreneurs.
Networking
MeChat Universe regularly attends tech expos, connecting with startups and tech giants alike, securing partnerships for exclusive product launch events. Booth Opportunities available through the below ad placement options and bundles.
---
Ad Placement Options:
provided by: Fit Small Business
TV commercial prices are known to soar to dizzying heights, with a 30-second Super Bowl ad costing between $6 and $7 million in 2023. This, however, is by no means typical; you can run TV ads for as little as $1,000 per month locally or around $200,000 per month nationwide.
Keep reading to learn more about TV advertising costs, from the costs of ad production to the average prices for broadcasting a commercial on TV.
General TV Advertising Costs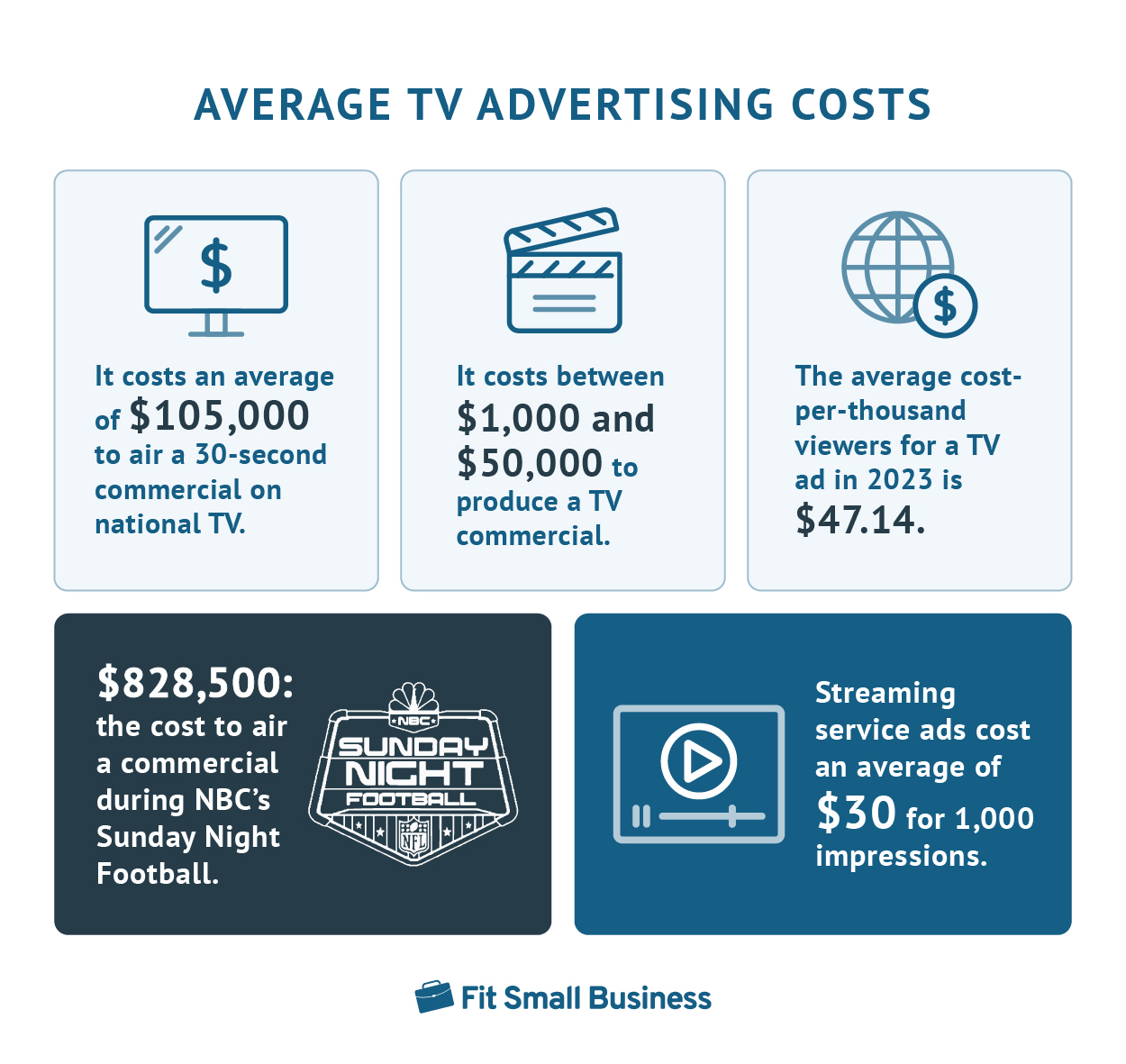 Average TV Ad Broadcasting Costs
provided by: Fit Small Business
For local television stations, advertisers can expect to pay between $5 and $100 per 1,000 viewers for a 30-second commercial. But when it comes to nationwide broadcasting, costs increase drastically.
Here are some related TV ad cost stats:
In 2022, it cost an average of $828,500 to air a 30-second ad during NBC's "Sunday Night Football."
A commercial on "This Is Us" cost an average of $317,981—the highest for any scripted show in the 2021-2022 season.
In the 2022-2023 season, the average TV ad cost was $47.14 per 1,000 viewers in a prime-time slot.
MeChat Universe is a global advertising opportunity with over 3,000 business plan writers pre-registered from 29 countries.
30-second TV Ad Cost by Cable TV Channel
How much a 30-second TV commercial costs varies drastically based on the desired broadcast location. To get ad rates, you'll need to contact local TV stations. However, for estimated advertising costs for cable TV, check out the pricing table below.
It includes some of the most popular cable TV channels.
Cable Channel/CPM
Animal Planet $25 to $100
CNBC $20 to $90
CNN $50 to $250
Discovery $45 to $125
ESPN $45 to $250
Food Network $35 to $150
Fox News $50 to $400
History $20 to $80
MTV $15 to $65
National Geographic $35 to $150
(Source: DX Media Direct)
Cost of TV Advertising Alternatives
Beyond television, several other media channels are available to broadcast your commercial, from billboards to radio. Here is the average CPM for other forms of broadcast media.
PlatformAverage CPMRadio$6.75Billboard$9.25Newspapers$46.82Magazines$13.24
(Source: Solomon Partners, Ad Quick)
MeChat Universe Ad Costs
The average cost of airing a commercial.
24/7 Student News Show Commercials:
Strategy: TV commercials are a powerful way to reach our business-savvy audience. We'll offer flexibility in ad length to suit different messaging needs.
Pitch: "Get your message in front of our global audience of business professionals. Our 15-second, 30-second, and 60-second TV commercial slots provide the perfect opportunity to showcase your product or service to a highly engaged viewership."
Cost:

15-second spot: $500. Ideal for quick, impactful messages or teasers.
30-second spot: $1,000. A standard commercial length that offers a balance between conciseness and information.
60-second spot: $2,000. Suitable for in-depth product explanations or storytelling.
Sponsored Content:
Strategy: Sponsored content allows brands to integrate seamlessly with our network's programming, providing valuable information or entertainment.
Pitch: "Elevate your brand by sponsoring a segment or even an entire show. Our content is tailored to our audience, ensuring your message resonates authentically while offering valuable insights or entertainment."
Sponsored Segment (5 minutes): $15,000. Dive deeper into your brand's story or present a detailed case study.
Sponsored Show (30 minutes): $75,000. Become the focus of a dedicated show, allowing for an immersive brand experience.
Banner Ads on Website:
Strategy: Website banner ads offer consistent visibility to our online audience.
Pitch: "Place your brand on our high-traffic website. With prominent homepage and category page banners, you'll be in front of our audience every time they visit, driving traffic to your website or landing page."
Homepage Banner (per month): $3,000. Featured prominently on our homepage for maximum visibility.
Category Page Banner (per month): $2,000. Tailored to specific content categories, ensuring relevance to the audience.
Deal Of The Year
Login Banner (one school year): Starting $300,000. Every free and scholarship user who logs in must watch at least one commercial. They can watch more to receive more points.

First Slot: The highest advertiser gets the first slot, and so on.
30 million players expected
Social Media Promotion:
Strategy: Leverage our social media presence to reach a wider audience and engage with viewers directly.
Pitch: "Harness the power of social media with our sponsored posts and videos. We'll put your brand in front of our engaged followers, driving interactions and conversions."
Sponsored Post (per post): $500. Leverage our social media channels to engage with our audience authentically.
Sponsored Video (per video): $1,000. Utilize video content to tell a compelling brand story and capture viewer attention.
Content Integration:
Collaborate closely with advertisers to seamlessly integrate their products or services into your content, ensuring a natural fit.
Example Company: "Lifestyle Trends Network" excels by incorporating fashion and beauty products into their lifestyle shows, leading to increased engagement and sales for their fashion brand advertisers.
Product Placement in Shows:
Strategy: Subtly integrate your product or service into our content to enhance brand visibility.
Pitch: "Let us seamlessly incorporate your product into our shows, giving you a unique opportunity to showcase its value to our viewers in an authentic context."
Negotiable based on content integration. Collaborate with our content team to seamlessly integrate your product into our shows, ensuring it feels natural and relevant to the storyline.
Understand Your Audience:
Details: Conduct surveys, analyze viewer data, and gather feedback to create detailed audience personas. Understand their preferences, pain points, and behaviors.
Example: If your network caters to business professionals, you might find that your audience values content on leadership, entrepreneurship, and investment opportunities. This knowledge helps tailor advertising to their interests.
Email Newsletter Sponsorship:
Strategy: Our weekly newsletter is a direct channel to our subscribers' inboxes.
Pitch: "Be the exclusive sponsor of our weekly newsletter, reaching our subscribers' inboxes with your brand message. Your brand will be the first thing our subscribers see, with a direct link to your content, offers, or events."
Weekly Newsletter (per issue): $2,500.
Customizations
Each of these packages is flexible and can be customized to meet specific advertiser needs. We're committed to helping you achieve your marketing goals and connect with our influential and engaged audience.
However we offer flexible in tailoring advertising packages to fit each advertiser's unique goals, whether it's brand awareness, lead generation, or direct sales.
MeChat Universe even works closely with travel agencies to customize ad packages, allowing them to promote specific travel deals and experiences to their target audience.
Data and Metrics:

Details: Gather and present data on viewership numbers, demographics, click-through rates, conversion rates, and the ROI advertisers can expect.
Example: Share statistics like "Our network receives 5 million monthly viewers, with 60% being C-suite executives, and our sponsored content has a 15% conversion rate."
Data and Metrics:
Utilize analytics tools to gather and present data on your viewership, engagement, conversion rates, and other relevant metrics to advertisers.
Example Company: "Business Boost TV" demonstrates its value to advertisers by showcasing how its ad placements led to a 20% increase in website traffic and a 15% rise in conversion rates for a financial services client.
---
Bundled Advertising Package Options:
MeChat Universe ads air in our online school up $5 per viewer, however, order a bundled advertising package with us today and receive discounts up to $2 per viewer.
Additionally bundled packages are for all 6 month business season.
Gold Advertising Package:
Strategy: Attract smaller advertisers looking for an entry point with a cost-effective package.
Pitch: "Start your advertising journey with us. Our Starter Package offers a mix of commercials, online presence, and social media engagement to get your brand noticed and make your brand visible to our global audience."
10 TV Commercials (mix of 15s and 30s)
1 Homepage Banner (per month)
2 Sponsored Posts
Cost: $10,000 per month
Platinum Advertising Package:
Strategy: For businesses seeking more exposure and engagement.
Pitch: "Boost your brand's visibility with our Business Booster Package. It combines TV commercials, sponsored content, and extensive online promotion to maximize your reach."
Costs:

20 TV Commercials (mix of 15s and 30s)
1 Sponsored Segment (5 minutes)
2 Homepage Banners (per month)
4 Sponsored Posts
Cost: $30,000 per month
Title Advertising Package:
Strategy: Tailored for larger brands seeking a comprehensive presence across our network.
Pitch: "For the ultimate impact, our Executive Package delivers an all-encompassing advertising experience. Gain access to our full range of advertising options to ensure your brand dominates the global business landscape
Costs:

40 TV Commercials (mix of 15s and 30s)
2 Sponsored Segments (5 minutes each)
1 Sponsored Show (30 minutes)
4 Homepage Banners (per month)
8 Sponsored Posts
2 Sponsored Videos
Cost: $100,000 per month
Email us for our Sponsor Packages or to advertise: [email protected]
---
Pros & Cons of MeChat Universe Advertising
PROS
Precise audience targeting to Reach a wide and captive audience
Advertise locally, nationwide, globally
Possibilities for audience interaction to tell a story in a way that isn't possible in traditional advertising packages
Tracking and performance measure available
Improved brand perceptions—advertising in a global business school makes brands appear more successful, legitimate, and professional
Cons
Competition for screen space, unlike with social media advertising
Every ad view don't always translate to increased revenue
Requires a large upfront investment. $15,000+ in most cases
Email us to advertise: [email protected]
---
CANCELLATION NOTES:
30% or more deposit at time of signing; this money is non-refundable if you decide to cancel, refundable if we cancel SY2025.
A fee of 25% to 50% of the total price may be assessed if you cancel less than 30 days before the event.
A fee of up to 75% or even 100% of the total price may be assessed for cancellations made within a week or days prior to the start of SY2025. There could be a cost of 10% or more for moving your enrolment to a different date or event.
How do I create a TV commercial?
Creating a TV commercial involves building an ad strategy and deciding on a method of production: either in-house or buy hiring MeChat Universe . By hiring MeChat Universe, we will work with you to develop an ad concept, produce your commercial, and secure ad slots to include:
scripts
vision boards
hire talent
production & editing
If you're working with an agency, they might take care of everything for you.
Email us to advertise: [email protected]
#MeChat Universe
# Advertising collaboration
# Community impact
# Economic growth
# Digital advertising
# Engaged audience
# Financial literacy ecosystem
---

Article By Antonio James, MIQ

---

Article By Antonio James, MIQ

---

Article By Antonio James, MIQ

---

Article By Antonio James, MIQ

---

Article By Antonio James, MIQ

---

Article By Antonio James, MIQ

---

Article By Antonio James, MIQ

---

Article By Antonio James, MIQ